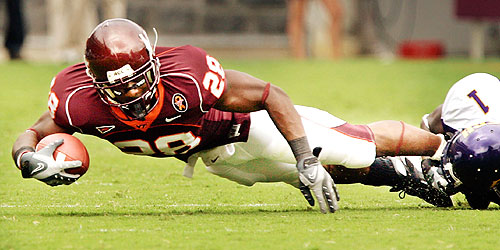 It's hard to be a stat-head like I am and love college football. There aren't as many useful stats and there aren't as many trends as the two most stat-friendly sports, baseball and basketball. Even the box scores for football suck.
First, the football box score is typically two pages. After the game, you'll get a team stats page and an individual stats page and you'll have to go back-and-forth between the two when trying to dissect what just happened.
With baseball and basketball, the box score is one page. It's a beautiful thing. And for the most part, it tells the story. Basketball is the easiest sport to pick out why a team won or lost a particular game and basketball has better trends.
Baseball games, however, are too reliant on one player: The pitcher. If he shits the bed, its game over. And the box score doesn't show a lot of the details involved in why a team wins or loses are particular game (like defense).
In hoops, its all right there. That's why one of my favorite Web sites is Ken Pomeroy's stats site. Pay close enough attention to basketball box scores and there's no reason you shouldn't win your office pool come March.
But football's different. Each game is almost its own season, especially in the college game. That's why when you find a particular trend it football, it's more exciting.
For instance: Branden Ore really fucking sucks in games not played in the Commonwealth of Virginia.
We have a lot of time between now and the ECU game to dissect Ore's career and what his senior year will be like, but in looking at his stats from his first three seasons, I noticed he's a lot better at home than on the road. Ore averages 5.1 yards per carry at home and 3.8 on the road. Seventeen of his 31 career touchdowns have come in Lane Stadium.
Then, looking closer at his road game-by-game, I noticed something else. Two of his top three road rushing totals have come at france. He ran for 147 yards there last season and 115 yards there in 2005. Those would be his two best totals if he hadn't run for 116 yards on a neutral field against Kansas in last year's Orange Bowl.
So, when you look at Games in Virginia vs. Games Outside Virginia for Ore, his road game shittiness becomes even more apparent.
In Virginia: 22 g, 375 car, 1,939 yds, 5.2 ypc, 19 td

Ouside Va.: 16 g, 242 car, 837 yds, 3.5 ypc, 12 td
The question is, why is Ore so much better in the state than outside it. The rivalry factor could explain why he's better in Scott Stadium than any other road facility (also because Tech owns that stadium when we play there). And it could not be entirely his fault that he's better at home. Crowd noise effects offensively lineman more than probably any other position.

Of course, the bad road rushing numbers don't just follow Ore, they follow the Hokies. In Ore's freshman season of 2005, the Hokies also had Cedric Humes and Mike Imoh. Ore got a lot of carries that year because one of them was usually either injured or suspended. The freshman Ore was the back-up in many of those games. It also didn't hurt that we had a running quarterback in Marcus Vick.
That season, the Hokies averaged 4.3 yards per carry, 195 yards per game and scored 17 touchdowns on the ground in seven road games.
The next year was Ore's first as the primary back and saw the switch from a dual-threat QB in Vick to a drop-back passer in Sean Glennon. As a team in 2006, the Hokies averaged 2.1 yards per carry, 67.4 yards per game and scored 7 touchdowns in 5 road games.

The drop-off is even more apparent when the numbers are placed together:
2005: 7 g, 4.3 ypc, 195.0 ypg, 17 td
2006: 5 g, 2.1 ypc, 67.4 ypg, 7 td

In 2007, the numbers went up in a season I thought Ore was hurt much of the year and the offensive line struggled early in the season due to their own injuries. However, the emergence of another dual-threat QB, Tyrod Taylor, helped our rushing numbers on the road a bit.
2007: 7 g, 3.2 ypc, 124.7 ypg, 8 td
The only number that didn't rise significantly was touchdowns. Was this because of Ore's injuries and the line not being able to produce in the red zone? Maybe. Even if it is, it's good to see our rushing numbers on the road improve like they did. Ore averaged 3.5 yards per carry (3.1 not including UVa) last year, which was better than the team's average.
I think the improved numbers, along with Taylor's presence and a healthy and more experienced O-line will mean our numbers in road games will be a lot closer to 2005 this season. I think it will mean good things for Tech and good things for Ore as he tries to put a sub-par season both on the field and off the field behind him in 2008.