Canes305 from
allCanes
was nice enough to answer our questions on this week's VT-Miami game.
Click here for my answers to his questions
.
Q: The Younglings are on a roll and have won four consecutive games after starting the season 2-3. They have a legitimate shot now at going to the ACCCG. How has this team performed based on what your expectations were before the season?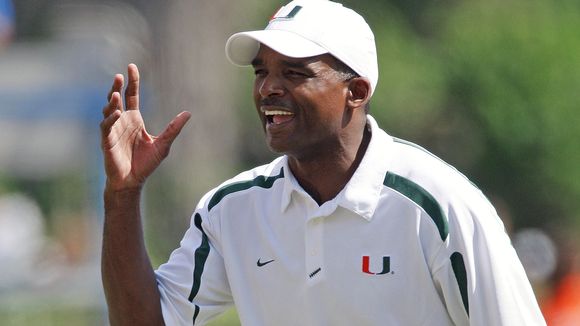 When the season started, I said 9-3 would be a dream season and that 8-4 was very doable. 7-5 had to be the worst case, but was tolerable as long as this team played with heart - which they are doing. I think Miami can go 2-1 down the stretch and that an 8-4 looks like a reality and would be huge after a 2-3 start and back-to-back losses to North Carolina and Florida State (by a combined six points).
Personally, I don't think the Canes get to the ACC title game this year. Next year it's a reality, but the two early season ACC losses will come back to haunt. A four-game win streak would need to turn into a seven-game streak and that's asking a lot for a young, inexperienced team. They're liable to slip somewhere down the stretch.
As for how this team has performed, I'll reserve judgment until the season is over. The fact that Miami was able to rebound from a 2-3 start was impressive, as last year's team would've gone in the toilet. The Canes are showing grit, determination and heart. That said, now is no time to let up. Wins against Wake Forest and Virginia were impressive, but Miami needs to 'bring it' against Virginia Tech (11/13) and Georgia Tech (11/20) as both have had their number the past few years.
Where this team has exceeded expectations is in regards to the freshman class. On paper, Miami knew they had some ballers... but to see these kids hit the ground running and play beyond their years, it's been incredible. These freshman have single-handedly saved the season and have the future looking extremely bright.
Q: Randy Shannon has had good luck recently at quarterback going with whoever has the hot hand. Are you comfortable with the two quarterback system the Canes have right now? Is there one quarterback (Marve or Harris) you feel should be the No. 1 guy?
I like the current system. After Harris led the comeback against Duke weeks ago, people were clamoring for him to be starter. I disagreed and posed the argument, what happens if Marve comes in and saves the day against Wake the following week - which he did. You can't flip-flop your starter week-to-week. That's how you turn a competition into a controversy.
The current system works. Start Marve, give Harris his reps and go with the hot hand down the stretch. Both these kids are first-year starters. Both need to play. Let them get through 2008 and come spring 2009, open up the competition again and see who wins the starting job. One of these guys will eventually separate themselves from the other. Until then, play them both.
If I had to rate them, I'd definitely go Harris as 1a and Marve as 1b right now. Both are studs, but Harris' composure and playmaking ability - it's immeasurable regarding a true freshman. Marve seems to have better wheels and plays more by feel than with his mind.
Q: How close is Javarris James to being at 100 percent and how important is it for the Canes offense to have a healthy James in the backfield?
You only know what the coaches tell you... and around Miami, that isn't much. James hasn't been 100% healthy in his career, so it's hard to gauge his healing progress. As for the importance, it's crucial he gets back in the line up down the stretch. Graig Cooper is a superstar, but the wear and tear is showing as he's a smaller back. He had a lull there against Virginia where he was ineffective, though somehow dug deep on the final drive and in OT to will Miami to victory.
A two-headed rushing attack was so important for success this season. Miami has truly missed James and needs him these next few weeks if they have any shot at winning out. Back ups like Shawnbrey McNeal, Derron Thomas and Lee Chambers are capable backs, but none are proving to have that 'it' factor and there hasn't been any separation between the back ups.
Next season Miami looks to reel in Kansas' top-rated Bryce Brown, Killian's Lamar Miller and Mike James, from Davenport, FL. Brown and James are your Willis McGahee-type bigger backs and Miller has drawn Clinton Portis-like comparisons. The Canes ground game will get a huge boost in 2009.
Q: The Hurricane defense has suffered a lot of key injuries this season. How does the Miami defensive line stack up against the VT offensive line and who on defense needs to step up this Thursday for the Canes?
Miami's defensive line isn't the strong point it's been in years passed. The Canes started the year expecting senior Eric Moncur to be the team's anchor, but he was lost to injury weeks ago. That said, other under the radar guys have stepped up. Adewale Ojomo is a r-freshman who's been a big time surprise and Miami finally has Josh Holmes back from injury - a member of the 2006 class who's been sidelined most of his career. Dwayne Hendricks. Steven Wesley and Antonio Dixon have all played good football, but aren't your dominant Miami lineman of yesteryear. Young guys like Allen Bailey and freshman Marcus Forston are more in that mold and should be superstars when it's all said and one.
The Canes front seven will need to get some penetration on Thursday night. Too many times this year, Miami's line hasn't gotten to the quarterback or stuffed the run. Secondary is the Achilles' Heel on this team and if the front seven doesn't do their job, Tech's passing game will thrive. Miami obviously also needs to hit Darren Evans behind the line of scrimmage. Evans isn't really under the radar anymore after his monster game against Maryland.
Q: How has the move to Dolphin Stadium affected Miami football?
I think 5-7 last year, 7-6 the year before and a new coaching staff all have affected Miami football more than a stadium change. Had Miami left the OB when the Canes were thriving, it'd have been a bigger issue... but when you leave your legendary stadium with a whimper and not a bang, you have bigger things to worry about. Over the past two seasons, the Canes went 9-5 in the OB. A shell of a program that owns a record 58-home game win streak back in the day and a 26-game home win streak between 1999-2003.
Winning ways will make Dolphin Stadium feel like home, over time. The Canes need some signature home wins and to turn the program around. Once that's done, the stadium itself won't matter anymore. It was time for change. The Orange Bowl will forever be home, but the landscape of college football is changing and Miami needed a facelift. In the matter of one season, the Canes literally went from the worst stadium in the ACC to the best. Hard to argue with an NFL stadium that's hosted its share of Super Bowls. The fans may miss the tradition, but 17-year old recruits love the JumboTron and fact they're playing in a big time stadium. At day's end, that's what really matters.
Q: What do you think of Randy Shannon and do you think he's the guy who will get Miami back to competing for national championships year in and year out?
I'm on Randy's bandwagon and have been since day one. Anyone who isn't is either impatient or is in denial regarding how fall Miami football had fallen. This looks to be the first year since 1974 that not one Cane is drafted. Forget 14-year first round streak... rumor has it Miami won't even have Mr. Irrelevant. You can't go from being one of the most talent-heavy programs in the nation to talent-starved and expect a new coach to hit the ground running and just turn things around.
Randy Shannon inherited the worst Miami program in three decades. Larry Coker was the first Miami coach to be fired in over thirty years. All others have left for greener pastures and left the cupboards stocked when they moved on. The Canes were a putrid squad last year, which is why so many freshman are starting and are so heavily relied upon. If you look at the team Shannon took over last fall and compare them to where they are 15 months later, it's pretty incredible. He recruits like Jimmy Johnson and Butch Davis and it's looking like he'll develop talent like both his predecessors, based on the immediate impact the freshman are having.
If Shannon can get this team to 9-4 this year (after the bowl) or even 8-5, this year is a success and there's something to build on. Miami can get to the ACC title game next year and after two more classes, I think the Canes are in the hunt with Shannon by 2010. This class will prove to be the foundation and when these kids are juniors and seniors, you'll see the Miami you always knew and hated.
Q: Give us a Canes fan's take on the Virginia Tech-Miami rivalry.
I dig the rivalry. Virginia Tech has become a proud program and although they don't have the national championships on their resume, they've definitely made their presence felt getting to some big time bowl games the past dozen or so years.
The Hokies definitely capitalized on the Canes' probation in the 90s, winning five straight. VT didn't get its first win against UM until 1995, Butch Davis' first year when probation and a lack of scholarships crippled the program for the latter half of the 90s. Of course probation had nothing to do with the 1999 beat down, as that was the year Tech became a 'player'.
Virginia Tech is again capitalizing on Miami's mistakes - this time around a lame-duck head coach who left the program in shambles almost as bad as probation did ten years ago. The Hokies never seem to beat on the Canes when Miami is on a roll (early 90s and early 00s) but true to the blue collar mindset, they get it done and capitalize when given the opportunity.
This rivalry will get back to that next level again when Miami, Florida State and Virginia Tech are a top the ACC in the coming years. That was the goal when UM, VT and Boston College came over from the Big East. Since joining the ACC, the 'big time' teams haven't lived up to the billing. Once you get the aforementioned teams in the top five, a la all the Big XII rivalries, I think you'll see this one garner more interest on the national level.
For now, it's Canes v. Hokies with a lot on the line and a modern day rivalry kicking up thanks to former Big East and current ACC ties.
The same way Virginia Tech fans hate Miami, the feeling is mutual. The two programs are nothing alike and I know Canes fans don't care for the false bravado from a program that has had their number over the past decade, but still has nothing to show for it championship-wise. There's that belief that Virginia Tech will always be 'little brother' until they get some hardware for their trophy case.