Blow, you savage hurricane, blow. Unleash the fury of your ancestors onto the plains of central Texas. Feast upon a multitude of nourishing gulf water and grow strong and prosperous as you approach the Lone Star.
Seriously, hurry up and postpone this bogus little Arkansas-Texas drubbing-in-waiting so I can see the Hokies without having to cough up money that had previously been allocated for Wild Turkey 101.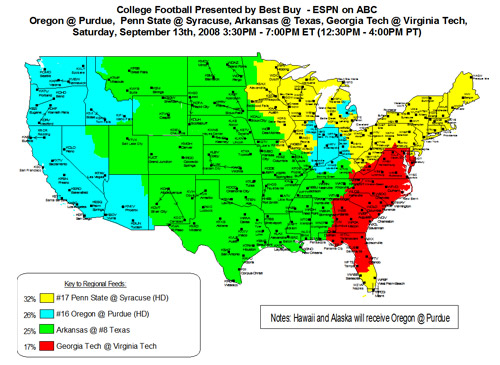 Right now, I'm slated to see the Horns and Hogs Without Nixon Coming at 2:30 on Saturday. If that game gets wiped off the slate, chances are the Oregon-Purdue game will be seen in my area. Then, the Hokies and Jackets will be on ESPN, instead of the Ducks and Boilers.
With the Reverse Mirror game, the Ducks and Boilers are shown on ABC in the blue area above and on ESPN everywhere else. The blue area gets VT and GT on ESPN. So without that pesky game between Texas and Arkansas, the coverage area for the Oregon-Purdue game increases, along with my odds of seeing VT-GT on ESPN.
Weather.com is predicting heavy wind and rain
for the Austin area around gametime on Saturday. The "Spectator Index" is listed at 1, which is at the bottom of its 1-10 scale.
Is it morbid that I want a hurricane to strengthen in order to see my favorite football team on TV for free? Yes, but at least I'm willing to admit it. The best case scenario for everyone is for the thing to strengthen, the Texas game to get postponed and then for the hurricane to weaken and not kill anyone. There, that's the politically correct statement, right?
Go Ike!
UPDATE:
Phase one is complete.
Texas-Arkansas has been postponed
. Now all we have to do is get ABC to put the Oregon-Purdue game in my market and it's Peanut Butter Jelly Time.
So help me, God, if ABC shows that lame Penn State-Syracuse nonsense I will shit a Frisbee. The wrath of that hurricane will have nothing on what I will unleash if I have to see Syracuse's pumpkin uniforms instead of the beautiful bastion of orange goodness the Hokies will unveil against the Yellow Jackets.
UPDATE:
WOOOOOOOOOOOOOOOOOOOOOOOOOOOO!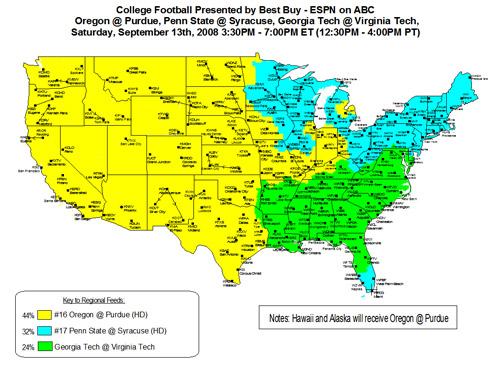 All areas in yellow (read: me) will see Oregon-Purdue on ABC and VIRGINIA TECH-Georgia Tech on ESPN. Thanks, Ike!