Scott from Georgia Tech Sports
and I are exchanging Q&As in anticipation of Saturday's game between the Hokies and Yellow Jackets. Scott was kind enough to share his answers and opinions on his Jackets.
Click here to view my answers to his questions.
On offense, how have the Jackets taken to the option offense? Against BC they broke a couple big plays but they've fumbled a lot.
The players have embraced the spread option offense. There's always a psychological change that has to take place. That happened for most of the players. For the ones that couldn't accept it - they're gone. They transferred or quit playing football completely. Some left because their positions don't exist (Tight ends) or they don't fit (like a slow, drop back passer). The players that are left have embraced the system. However, I think much of it has to do with the supremely humble yet confident attitude of head coach Paul Johnson. He doesn't just think his system will work - he knows it will. Andrew Gardner, our 4th year starting left tackle, says Johnson is the most confident coach he's ever met and that he borders on cocky. Johnson is making believers out of the players because they see the results, and you almost cannot help getting behind him. He just has the aura of a guy you would go to war with, and of course his Navy background only strengthens that.
However, Johnson's system is a high risk offense, predicated on timing, precision, decision-making, execution and mental toughness. You can argue every offense needs that, but it's more so in this case. While Johnson calls the plays, it's up to the QB to read the defense and make typically one to five different decisions from the time he gets to the line to when the play is finished. It requires precision blocking by everyone. It's a big play offense if everyone does their job. Witness the Boston College game, where BC played fundamentally sound defense, except for a handful of plays, including a 43 yard run, perfectly executed by Georgia Tech, that won the game. One mistake - game over.
Fumbles are a killer in any offense and this offense increases the risk putting the ball on the ground. Frankly, if it wasn't for our defense, last week's game wouldn't have been close, losing three fumbles in the first half. That will improve as the season continues, but it is absolutely a concern now. I expect VT to be a tougher challenge than BC.
Everyone knows about the changes to the offense, but what changes have been made to the defense? I assume no Tenuta would mean less blitzing?
The blitz-kreig defense of Jon Tenuta is gone. Under Tenuta it generally went like this - send 5 or more in on every play and force the QB into quick decisions and we'll succeed most of the time. In general it wasn't a bad strategy and made us a perennial top 30 rushing defense and we actually were top 5 in the nation in sacks and TFL. However, it was a bit of a one-trick pony. If your OL could pick up the blitz and you had a QB that made good decisions, you would eat us alive with the passing game. Our LB's were blitzing, or corners were playing back and soft off the ball in mostly zone coverage schemes. There were fewer players covering the passing lanes and there were soft spots everywhere.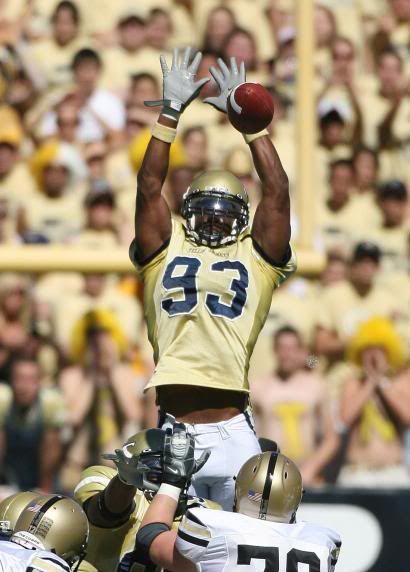 This season, much like BC, our strength lies in our defensive line. There are two possible first round draft picks on that line (seniors Michael Johnson and Vance Walker), another potential future 1st rounder (soph Derrick Morgan), and another outstanding senior who is poised for a strong season (Daryl Richard). This year, the D-Line is being asked to "make plays" instead of mostly setup plays for blitzing LB's and DB's. The D-Line will now have the freedom to decide how they will line up and attack to stop the play. You will see them split out wider and you will see more variety in technique and angles. In the past, Tenuta's scheme typically called for them to attack a certain way, limiting their freedom. Not any longer. We will continue to blitz, but not 85% of the time. Our corners will play more man coverage instead of zone. We will show a variety of fronts to the offense and we'll do different things out of the fronts. For example, last game, we dropped our 6'7" DE back into a coverage on a couple of plays, and the result is that he leaped for a pass, tipped it to a GT guy for an INT. BC's QB never saw it coming.
After two games, it is clear that we will more heavily rely on our D-Line to create pressure and drop more guys into coverage. That's an over generalization, because we'll mix up coverages and blitz as well, but it will be our tendency. Another change will be halftime adjustments. In other words, we will actually make them. Against BC, we gave up 203 first half yards, but only 60 in the 2nd half. That was the result of some specific scheme adjustments.
This thing is pretty new for us on both sides of the ball, so as fans, we're learning at the same time. Not sure we really know what our defensive tendencies will be at this point.
Is it good for the Hokies they're playing the Jackets this early in the season because of the new schemes or is it better the Jackets are playing the Hokies early because of Virginia Tech's youth?
From a GT offensive perspective, it is definitely better to get us earlier in the season. All GT fans fully expect our offense to improve each week. It's the nature of option football when it's new. We don't know if there will be a continuous improvement curve or a couple of step changes along the way, but we fully expect to be playing at a different level in our final games compared to our early ones. That has to play to VaTech's advantage. Right now our weakness is the O-Line, where guys are learning completely different blocking techniques. They're struggling a bit, and it makes the QB's job to make reads very hard.
In terms of VT's youth, if it's on defense, then there could be issues. The key to stopping our offense is playing assignment defense and not over-pursuing to the ball. Discipline is paramount on defense. Young guys tend to make more mistakes and it only takes one guy missing his assignment and it's off to the races.
Early lines have the Hokies as a touchdown favorite. Were you surprised by that? The Hokies have struggled and the Jackets have looked good so far.
Personally, I think 7 points is fine. Virginia Tech is the defending ACC champion and guess what - you had a QB controversy last season, and guess how that ended? Frank Beamer is just a winning coach and to underestimate him or his team would be a mistake. Georgia Tech is the youngest team in the ACC, period. You'll hear about Miami's youth, and UNC's youth and VT's youth, and FSU's youth but nobody in the ACC has more freshman and sophomores on their roster, in their two-deep or starting than Georgia Tech. Every single skill player is a freshman or a sophomore. Nobody can flip the "youth" card like the Jackets.
On the road in Blacksburg, 7 points, sounds reasonable to me.
Are you a fan of the Jackets' new uniforms?
Ahh, the uniform question. Topic of much banter in our off-season. I was at our home opener, and frankly, I think they look great. Are the home pants a little "mustardy"? Some people think so. It's actually more "old school" when you go back and look in our glory days, so it works for me. I wasn't as much of a fan of the all-white road uni's against BC, but honestly, as long as the players like them (which they do), I'm going to focus on the games and our win/loss record.